December 8, 2021
Shareholder Engagement Overview
Each year, publicly traded companies seek votes from shareholders on items including electing board members, executive pay packages, as well as proposals from shareholders on environmental, social, and governance issues. As a multi-billion-dollar investor in the U.S. and global stock markets, Rhode Island's pension fund holds shares in thousands of companies.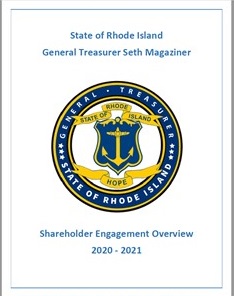 Treasurer Magaziner has published a report which provides an overview the actions his office is taking compel publicly traded companies in the state's $10.4 billion pension fund to adopt more responsible and sustainable corporate practices.
"My top priority as Treasurer is to expand economic growth and protect the financial security of Rhode Islanders and future generations. Companies that actively take leadership roles in developing more sustainable business practices are better positioned to deliver long-term value to investors, including members of the pension system as well as all Rhode Island taxpayers." - Treasurer Magaziner
You can read the report here.