March 19, 2022
Retirees: How to Read Your 1099-R
1099-R forms for 2021 will be mailed to ERSRI retirees in January 2022. The form provides the details of the benefit distributions you received during the 2021 tax year and should be used in filing your 2021 federal and state income taxes.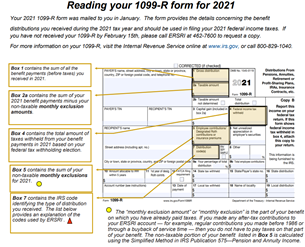 For help reading your 1099-R, please click here. 
Some retirees may receive multiple 1099-R forms. For more information, click here.  
If you have not received your 1099-R by February 15, 2022, please call ERSRI at (401) 462-7600, Monday – Friday from 8:30 a.m. – 4:00 p.m. to request a copy. 
You may also access your 1099R by logging into your account on the ERSRI Member Portal. For more information click here.